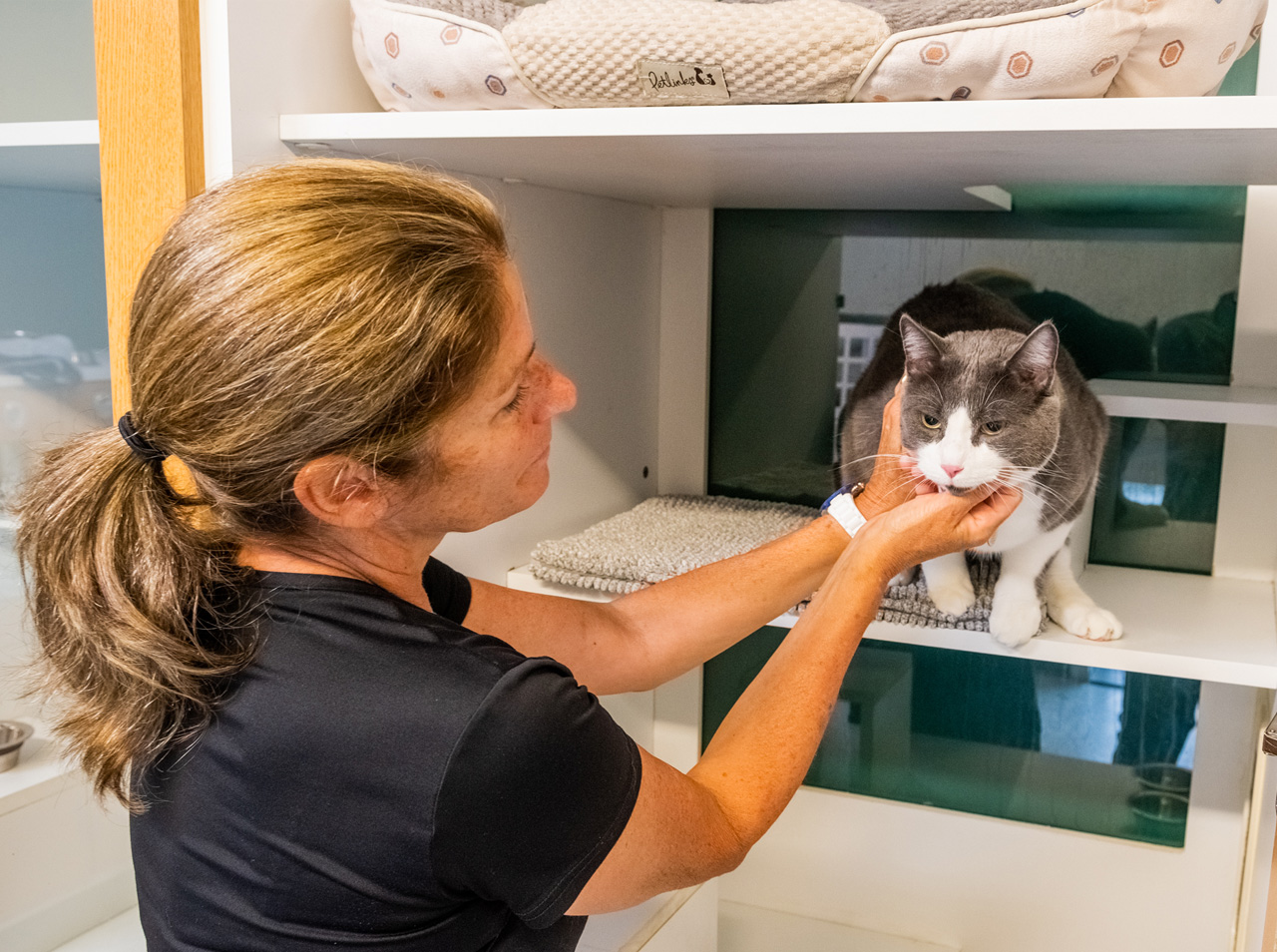 A Visionary Initiative
Although "kennel" was still the going term in 2005, Linda Zago, owner of MUZO, decided to rattle the cage of the industry. She thought it was high time for Montrealers to finally be able to benefit from pet services that were both friendly and up to date. The MUZO concept was born.

In 2007, she inaugurated the first hotel for dogs and cats in Montreal. From the start, MUZO was a modern and decidedly urban pet complex, fully equipped to ensure the animals' well-being, complete with spacious suites, a dog daycare with an air-conditioned indoor gym, a large outdoor park, and a grooming salon. The city had never seen anything quite like it!

Since then, the pet boarding concept has taken off, marking an important shift for the benefit of our faithful companions.
Contact us
MUZO Hotel: Setting The Standard
Often imitated but never equalled, MUZO Hotel has continued to evolve over the years. Today, it maintains its reputation as the most well-designed, innovative pet boarding facility in Montreal. To remain at the forefront of the market, MUZO Hotel has consistently worked to diversify its offering and provide unique experiences for your pets.
Information request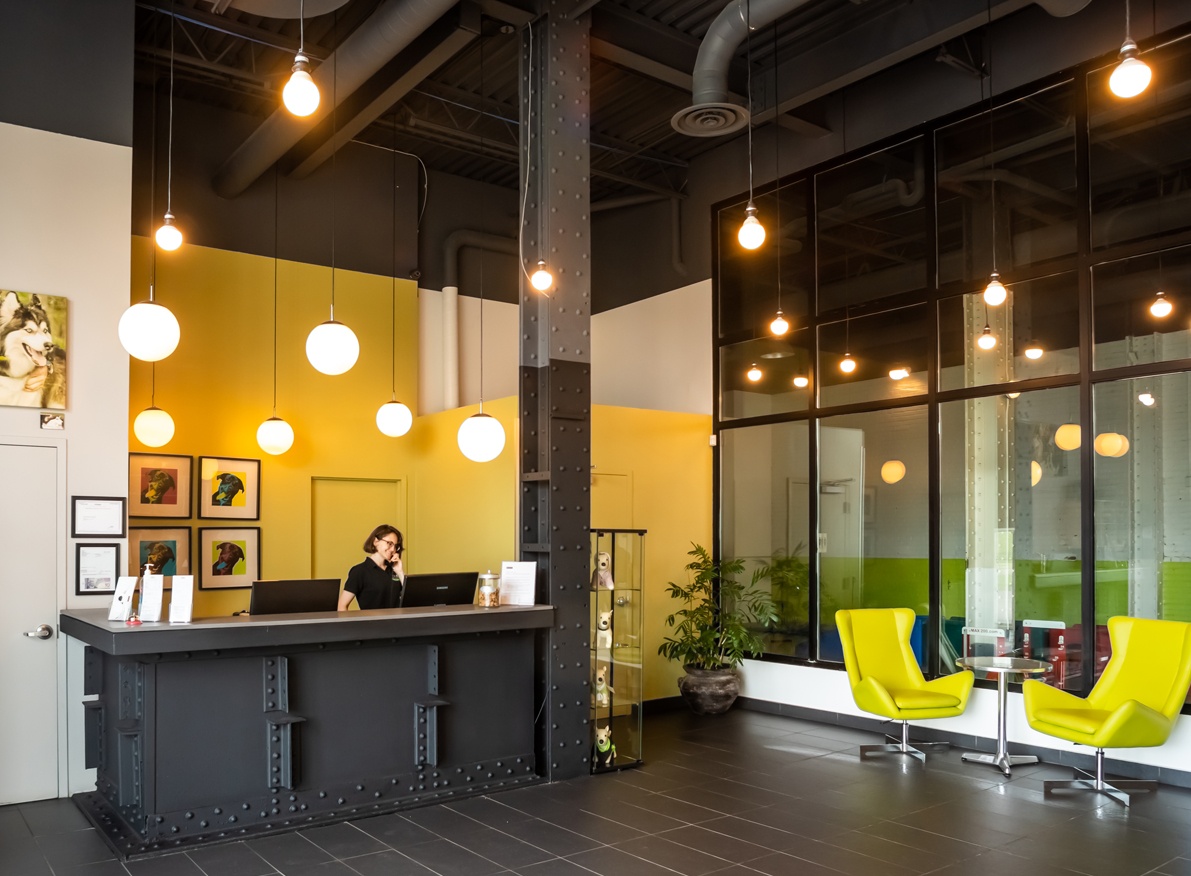 Uncompromising Comfort
Safety, and Design
MUZO Hotel's facilities span 10,000 square feet on the Lachine Canal. Every aspect of our cat and dog complex was designed with care. You'll find large, comfortable pet spaces; clean, ventilated, and air-conditioned facilities; a 24/7 surveillance and security system; and even an elevator!
Information request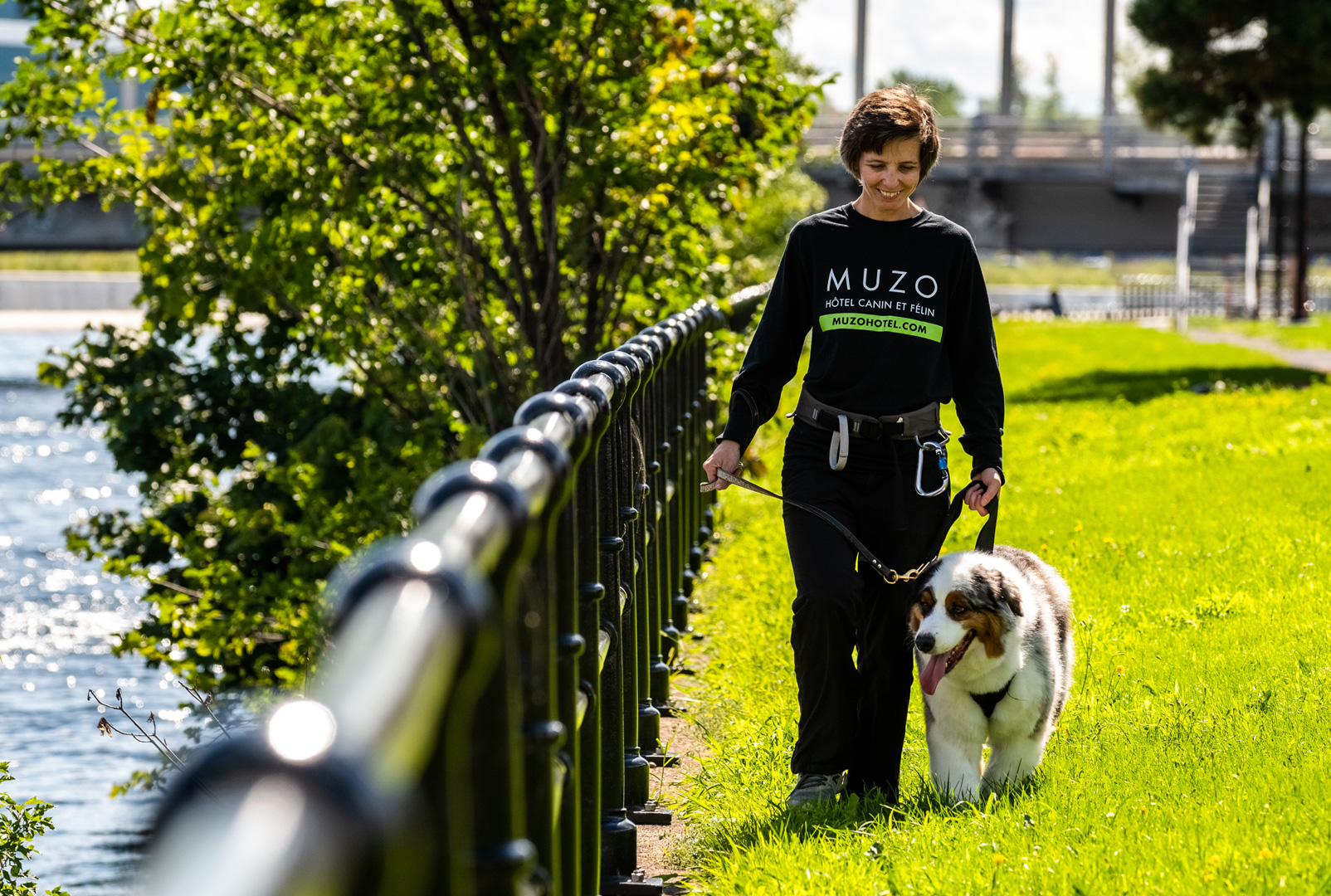 An Ideal Location,
in Dream Surroundings
Offering the advantages of both the city and the countryside, MUZO is ideally situated, as dogs can enjoy walks on the tidy paths along the Lachine Canal.
Close to downtown and the trendy Griffintown district, MUZO Hotel is conveniently located at the intersection of Montreal's major highways.  What's more, our clients have free access to our private parking space, which is sure to make your life easier when the time comes to entrust us with your pet. Visit MUZO Hotel and see for yourself!
Information request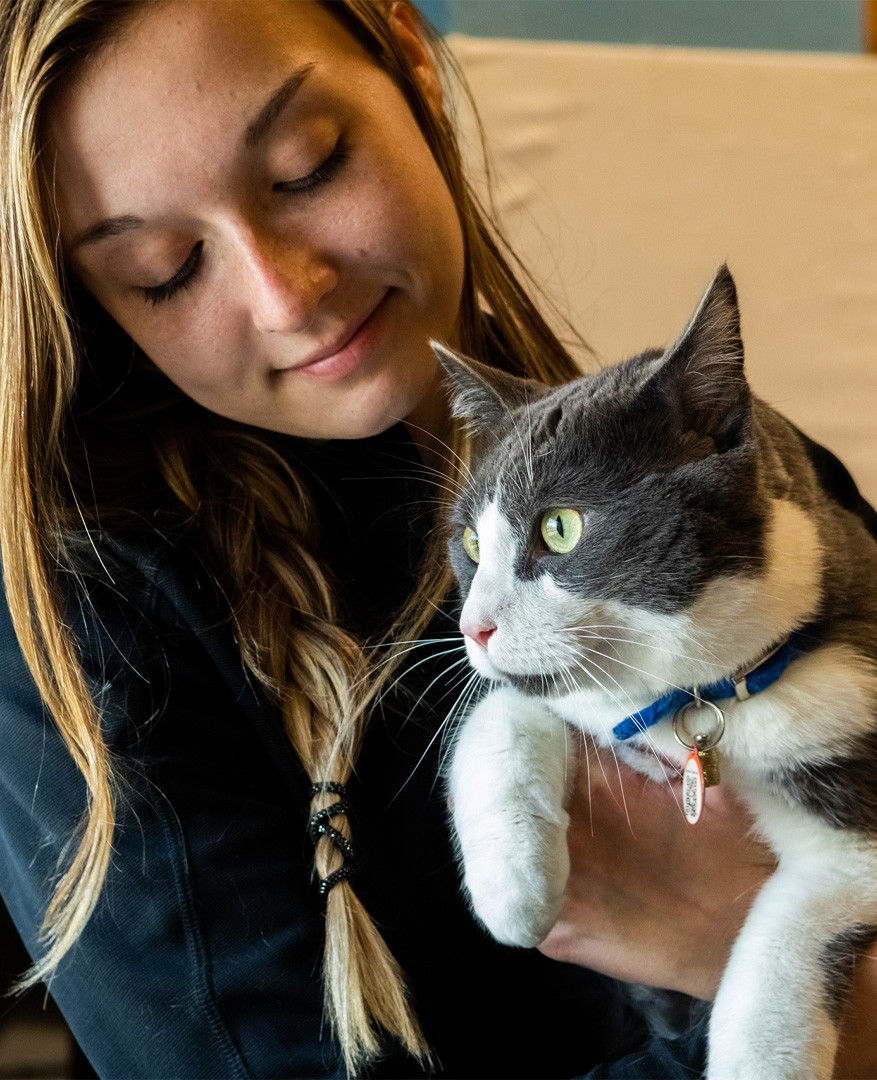 A Human Touch
At MUZO Hotel, our staff members are passionate and fully invested in their work. Their love of animals is the secret ingredient that makes all the difference.
We take pride in having a team of competent, professional individuals who care deeply about animal welfare. Each of our kind and attentive employees is committed to providing excellent service, and their human touch is what sets MUZO apart.
Information request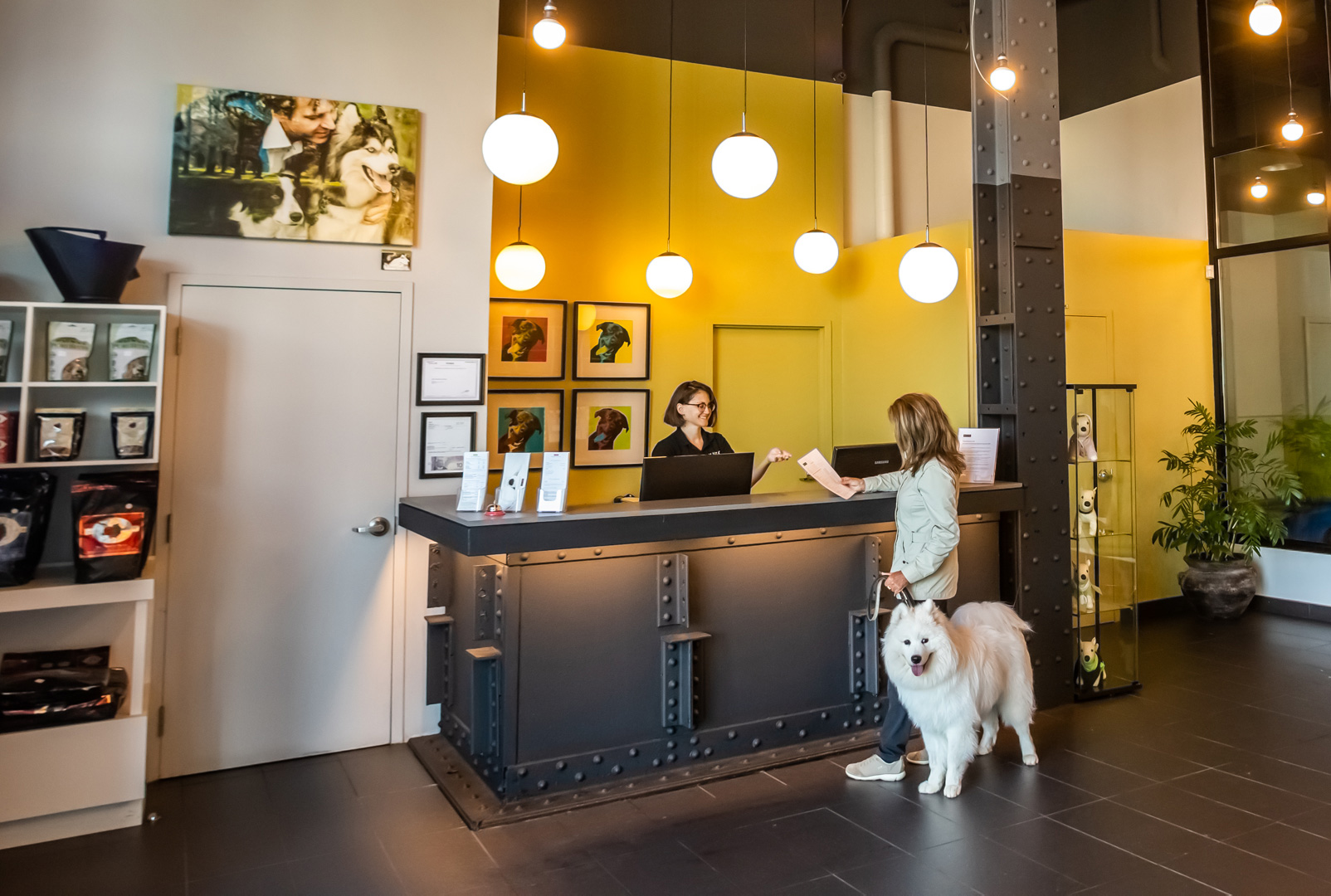 Keeping You Informed!
At MUZO Hotel, we understand that leaving your furry friend at a boarding facility can be a stressful—and perhaps even heartbreaking—experience. We therefore make it our duty to keep you informed throughout your pet's stay. In addition, we take whatever measures are necessary to ensure their well-being and safety, and find creative solutions to ensure they integrate smoothly. Our goal is to make sure you and your pet have a positive, comfortable experience.
Information request
The animals in our lives are unique. That's why MUZO Hotel offers several boarding options and entertainment and education programs so you can tailor your pet's stay to their temperament and personality. Over the years, MUZO Hotel has found that all-inclusive options are restrictive, and instead recommends that its clients build a personalized package.

Information request